What is a Springerle?
A springerle is a kind of sweet biscuit that is a part of traditional German cuisine and is especially common during the Christmas holidays. The key identifying feature of a springerle is the embossed the face of the biscuit. This feature is created by pressing or rolling a mold onto the dough before the dough is put in the oven to bake. Also, the dough is left to dry for a period of time between being embossed and being baked. This helps to maintain the impression in the dough so that it is still clearly visible after baking.
 
Create lovely cookies or wedding day crafts with these heirloom quality Monogram Cookie Molds, made of a resin/wood composite. Think fondant, petite fours, gift tags, cards and party favors!
 
Cookie Recipe
Ingredients

1 cup of light brown sugar (packed)
 
2 sticks of unsalted butter, softened
 
2 eggs
 
2 tsp. pure vanilla extract
 
¾ cup of molasses
 
5 1/2 or 6 cups of all-purpose flour
 
¼ tsp. salt
 
½ tsp. baking soda
 
1 tablespoon of ginger
 
1 ½ tsp. cloves
 
2 tsp. cinnamon
 
1 tsp. nutmeg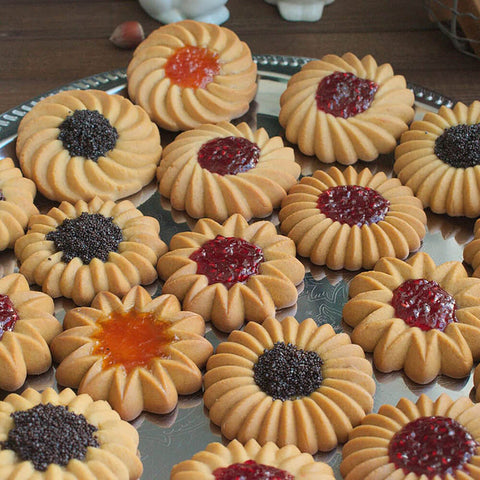 Instructions
 
Preheat oven to 350°. In a medium bowl, whisk the flour, salt, baking soda, ginger, cloves, cinnamon, and nutmeg and set aside.
 
With hand mixer, cream the butter and sugar together until light in color and creamy. Add eggs on at a time beating well between each one.
 
Add the molasses and the vanilla extract and mix well.
 
Gradually add the dry ingredients one cup at a time until all is combined and mixed well.
 
Divide the dough into three equal parts and wrap in plastic wrap.
 
Roll the dough out to 3/8 inch thick.
 
Dust the surface of your dough with flour. (There is no need to dust the mold.)
 
Press the mold into the dough just far enough to fill the mold cavity. Remove your mold and cut out the impression.
 
Place your cookie on a cookie sheet lined with parchment paper.
 
Place sheet of molded cookies in refrigerator. Chill for at least ½ hour.
 
Take your cookies out of the refrigerator and immediately place them in your preheated 350°oven.
 
Bake for 6-8 minutes. (Oven times may vary so keep an eye on them.)
 
 
Bake on greased or baker's parchment-lined cookie sheets at 255° to 325° till barely golden on the bottom, 10-15 minutes or more, depending on size of cookie.
 
Store in airtight containers or in zipper bags in the freezer. They keep for months, and improve with age.
<iframe width="457" height="813" src="https://www.youtube.com/embed/tIkRje8u5CQ" title="" frameborder="0" allow="accelerometer; autoplay; clipboard-write; encrypted-media; gyroscope; picture-in-picture; web-share" allowfullscreen></iframe>